BetUS Casino Review 2023: Unveiling Exciting Games, Bonuses, and Security
Welcome to our captivating BetUS casino review, where we embark on an exhilarating journey through the world of online gambling. BetUS stands tall among its competitors, offering an extensive range of sports betting opportunities that cater to every enthusiast. Immerse yourself in the adrenaline-pumping world of online gambling as you place bets on your favorite teams, players, and outcomes. With its user-friendly interface and intuitive navigation, BetUS makes it effortless to find and select the perfect bet, elevating your online gambling experience to new heights.
But BetUS is more than just a sportsbook. It's a captivating destination where the thrill of online gambling comes to life. Stay tuned as we delve deeper into the world of BetUS, uncovering its exciting features, exceptional customer service, and exclusive bonuses that add an extra layer of excitement to your journey. Join us as we unveil the secrets of BetUS and ensure you're armed with all the knowledge you need to make the most of this extraordinary online gambling platform. Let's kick off this captivating BetUS review and ignite your passion for online gambling!
BetUS Casino Review 2023: 
| | | |
| --- | --- | --- |
| Features | Description | Rating |
| Licensing | Licensed and regulated by the Government of Curaçao. | 4.5 |
| Security | Industry-standard SSL encryption technology and Fair Play | 4.7 |
| Games | 1,000+ Games and sports betting options and a wide variety of casino games. | 4.3 |
| Bonuses and Promotions | Welcome bonuses, Reload bonuses, and Free bet offers. | 4.2 |
| Payment Options | Credit cards, cryptocurrency (Bitcoin, Bitcoin Cash, Litecoin, Ethereum), cash transfers, and bank wire transfers. | 4.6 |
| Customer Support | 24/7 customer support via live chat, email, and phone. | 4.8 |
| Geolocation Restrictions | Netherlands, Costa Rica, Panama, Curacao, Germany, France, Philippines, UK, Belgium & Ukraine. | 4 |
| Verification Process | Requires Identification and address verification documents | 4.4 |
| Mobile Compatibility | Mobile-responsive platform | 4.5 |

Usability

:
Step into the captivating world of online gambling with BetUS and experience a seamless user experience that will leave you spellbound. Its modern design, adorned with a dynamic blue color palette and a prominent sports theme, sets the stage for an exciting journey. With convenient menus at the top of the page, you can effortlessly explore current promotions, sports betting options, the online casino, and engaging features like the Locker Room and BetUS TV. 
The intuitive layout of the casino, presented in a tile format, and the user-friendly sportsbook ensure easy navigation and quick access to all your favorite games. BetUS' commitment to delivering an exceptional user experience makes it a top choice for VIP program participants and sports bettors who crave a trustworthy and immersive online gambling platform.
With a legacy spanning over 25 years, BetUS has established itself as a true industry trailblazer, and its dedication to transparency sets it apart. The platform takes pride in providing full disclosure of its offerings and terms, fostering trust and understanding among players. This unwavering commitment to user satisfaction has earned BetUS a devoted following. 
Not only does BetUS offer a diverse range of captivating game sites, but it also guarantees fair gameplay, secure transactions, and complete peace of mind. Prepare to be enthralled by the seamless usability of BetUS as you embark on an extraordinary online gambling adventure that surpasses all expectations.
Look & Feel:
Prepare to be visually captivated by BetUS, where modern aesthetics and sports-inspired allure collide. With its dynamic blue color palette and polished graphics, the platform exudes sleekness and style, immersing you in a world of high-stakes excitement. Navigating through BetUS is a breeze, thanks to its user-friendly interface and intuitive menus that effortlessly guide you to the latest promotions, sports betting options, and the thrilling online casino.
The captivating tile layout of the casino and the seamlessly organized sportsbook ensure that every aspect of your gambling experience is both visually appealing and easily accessible. BetUS strikes the perfect balance between captivating looks and user-friendly functionality, providing a truly engaging online gambling experience.
Beyond its stunning aesthetics, BetUS delivers substance with its extensive game selection and intuitive navigation. Whether you're exploring the diverse range of games in the casino or placing bets on your favorite teams and players in the sportsbook, BetUS makes it a seamless and exhilarating experience.
Prepare to embark on an unforgettable gambling adventure as BetUS combines captivating visuals, intuitive navigation, and a world of thrilling options. With BetUS, every click is a step closer to a remarkable online gambling experience that will leave you yearning for more.

License and Security:
When it comes to license and security, BetUS ensures strict compliance with applicable laws and regulations. By accepting the Terms and Conditions, you acknowledge that BetUS takes measures to ensure compliance with local laws in your country and Curacao. It is your responsibility to review these terms, especially regarding age restrictions and prohibited territories. BetUS maintains transparency by providing a list of prohibited countries, which is regularly updated. However, please be aware that this list may not encompass all territories where online gambling is restricted. Additionally, it is essential to address any tax obligations on your winnings with the relevant authorities in your jurisdiction.
BetUS understands the significance of protecting your privacy and personal information. Your data is handled by data protection standards, similar to those imposed by the European Union. The website is equipped with robust security measures to safeguard your information and ensure a secure gambling environment. BetUS also adheres to strict copyright regulations, protecting its material from unauthorized use or distribution. By posting material on the site, you grant BetUS a license to use and distribute that content.
Rest assured that at BetUS, your safety and security are paramount, allowing you to enjoy your online gambling experience with peace of mind.
Games:
BetUS stands out for its impressive collection of games, catering to a wide range of preferences. With a plethora of options, players can dive into an exciting and varied gaming experience. Let's explore the different categories and offerings in more detail: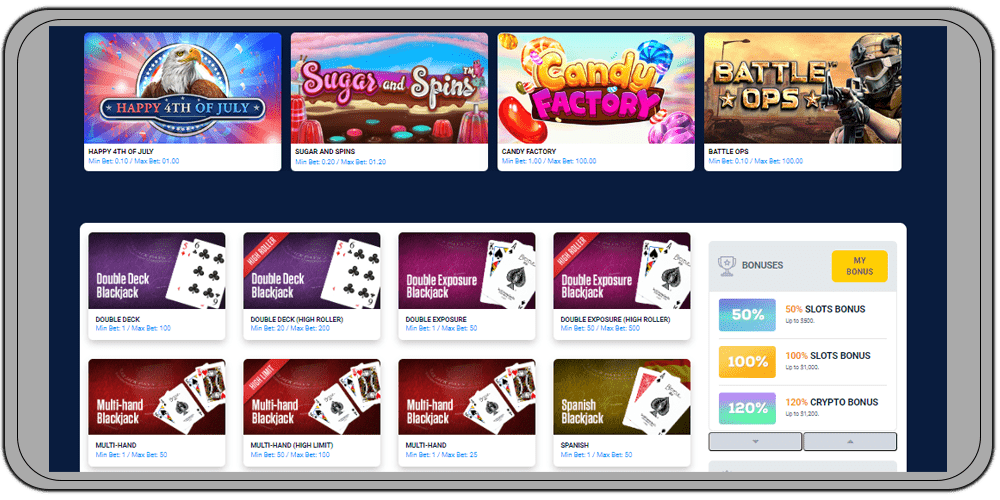 Slot Games: betUS boasts an extensive library of slot games, featuring over 500 titles. From classic three-reel slots to innovative video slots with stunning graphics and immersive themes, players are spoiled for choice. Additionally, they offer a selection of progressive jackpot slots, where lucky players have the chance to hit life-changing wins.
Table Games: With over 50 table games available, betUS ensures that players never run out of options. Classic games like blackjack, roulette, and baccarat are accompanied by various exciting variations, such as European Roulette, Multihand Blackjack, and Punto Banco. This diverse collection caters to both traditionalists and those seeking a fresh twist on familiar favorites.
Video Poker: Poker enthusiasts can test their skills and luck with a range of video poker games at betUS. With over 20 different variations, including popular titles like Jacks or Better, Deuces Wild, and Joker Poker, players can enjoy thrilling gameplay and strategic decision-making.
Live Dealer Games: For an immersive and authentic casino experience, BetUS offers live dealer games. Players can engage in real-time gameplay, interacting with professional dealers through high-quality video streaming. With options like Live Blackjack, Live Roulette, and Live Baccarat, the live casino section brings the excitement of a land-based casino directly to players' screens.
Sports Betting: As a comprehensive gaming platform, BetUS also offers a robust sportsbook. With an impressive selection of sports, including football, basketball, baseball, soccer, tennis, and more, players can place bets on their favorite teams and sporting events. BetUS covers both major leagues and niche markets, ensuring that sports enthusiasts have ample opportunities to wager on their preferred games.
Esports Betting: Recognizing the growing popularity of esports, betUS caters to gamers with its esports betting options. Players can bet on top-tier esports tournaments and matches across games like Dota 2, League of Legends, Counter-Strike: Global Offensive (CS: GO), and more. This exciting addition allows fans to further immerse themselves in the world of competitive gaming.
Specialty Games: For a change of pace, betUS provides a range of specialty games. These include scratch cards, keno, bingo, and other unique titles that offer quick and entertaining gameplay. These games are perfect for players seeking a break from the usual casino offerings.
With a staggering variety of games, including over 500 slots, 50+ table games, 20+ video poker variations, live dealer options, sports betting, esports betting, and specialty games, betUS ensures there's something for every type of player. The extensive selection caters to different preferences and guarantees hours of thrilling entertainment.
Whether you're a fan of spinning reels, strategizing at the tables, betting on sports or esports, or simply looking for a unique gaming experience, betUS delivers with its diverse range of offerings. The platform's commitment to providing top-notch entertainment shines through its expansive game library and ensures that players always find something captivating and enjoyable.

Bonuses and Promotions: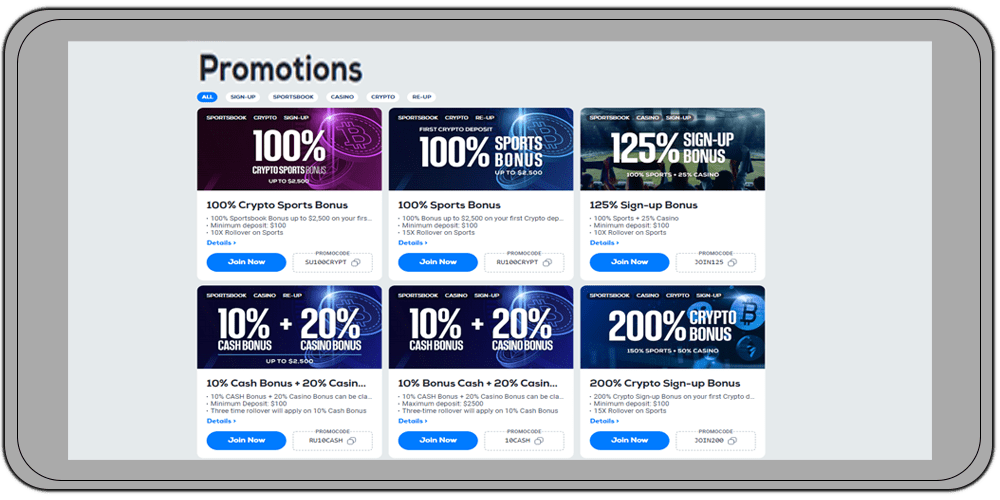 BetUS offers a variety of enticing deals and bonuses to enhance the sports betting experience. Whether you're a new customer looking for a generous sign-up bonus or a loyal player seeking ongoing promotions, BetUS has you covered. 
BetUS Promotions
| | | |
| --- | --- | --- |
| Category | Type | Details |
| Sports | Sign-Up | 100% Sportsbook Bonus up to $2,500 on your first Crypto deposit |
| Sports | Re-Up | 100% Bonus up to $2,500 on your first Crypto deposit |
| Sports | Casino | 100% Sports + 25% Casino |
| Sports | Casino | 10% Cash Bonus + 20% Casino Bonus up to a $2500 deposit |
| Sports | Sign-Up | 10% Bonus Cash + 20% Casino Bonus up to a $2500 deposit |
| Sports | Casino | 200% Crypto Sign-up Bonus on your first Crypto deposit |
| Casino | Crypto | 250% Casino Crypto Sign-up Bonus is up to $5,000 on your first deposit |
| Crypto | Sign-Up | 20% Cash Bonus up to $500 on your Crypto Deposit |
| Crypto | Re-Up | 20% Cash Bonus up to $500 on your Crypto Deposit |
| Casino | Sign-Up | 150% Casino Sign-up Bonus up to $3,000 on your first deposit |
| Sports | Casino | 200% Bonus on your First Crypto Deposit |
| Sports | Crypto | 100% Re-up Bonus up to $2,500 on your next two deposits |
Special Promo Code BETUS260
 Terms & Conditions:
260% casino bonus + $10.00 cash bonus.

This 260% first deposit bonus comes with a 40X Rollover on slots Games 

For Release and Cashout, with a max cashout of $10,000. 

The $10 cash bonus comes with a 30X rollover, and a $100 max win limit, and can be used in Quest of Azteca by Betsoft Gaming.

The minimum deposit amount for this promotion is $50. 

The bonus amount is non-cashable and will be removed from the amount of your withdrawal request. 

The bonus expires in 14 days. Unless noted, standard rules apply.
BetUS truly shines when it comes to promotions, providing a wealth of opportunities for sports betting enthusiasts. From generous sign-up bonuses to lucrative re-up offers, there's something to suit every player's preferences. BetUS caters to both sports enthusiasts and casino lovers, ensuring a well-rounded and thrilling experience. 
Remember to review the specific terms and conditions of each promotion to make the most of your betting adventure. With BetUS promotions, you can elevate your gaming experience and potentially boost your winnings. Join BetUS today and take advantage of their enticing offers for an unforgettable sports betting journey.

Payment Options:
As part of BetUS's commitment to providing a seamless and convenient betting experience, they offer a variety of payment options to deposit funds into your account. Here are the payment methods available at BetUS:
Credit Cards: BetUS accepts major credit cards such as Visa, MasterCard, and American Express. You can make credit card deposits through two methods:
Via telephone: Contact BetUS toll-free at 1-888-51-BetUS (23887) and speak with an account manager who will assist you in processing your deposit.
Via web: Log in to your BetUS account and navigate to the "Make a Deposit" section. Select your credit card and enter your card details to complete the transaction.
Note: If your credit card is declined, please get in touch with BetUS immediately for approval.
Cash Transfers: For more information on cash transfer methods, you can reach out to BetUS Customer Support at 1-888-51-BetUS (23887).
Card2Wallet: BetUS provides the option to use Apple Pay or Google Pay to complete your deposit online. This Card2Wallet feature offers a convenient and secure way to fund your account.
Cryptocurrency: BetUS supports various cryptocurrencies, including Bitcoin (BTC), Bitcoin Cash (BCH), Litecoin (LTC), and Ethereum (ETH). Cryptocurrency deposits are becoming increasingly popular due to their fast and secure nature. BetUS enables you to make cryptocurrency deposits to enhance your betting experience.
It's important to note that each payment method may have its restrictions and requirements. For example, credit card transactions require passing a security screen to verify your identity. All transactions with BetUS are conducted in U.S. dollars, and there are maximum limits per transaction, which can be increased upon request.

Customer Support:
BetUS Casino is committed to providing excellent customer support to its players. A dedicated support team is available 24/7 through multiple channels, including live chat, email, and phone. The knowledgeable and friendly support agents promptly address any queries or concerns, ensuring a smooth and enjoyable gaming experience.

BetUS takes pride in its top-notch customer support, ensuring that users receive prompt and reliable assistance whenever they need it. With multiple support channels available, including toll-free phone support, live chat, and email, users can choose the most convenient method to address their inquiries or concerns. The customer support team at BetUS is known for its professionalism, responsiveness, and expertise, capable of handling various account-related questions, payment issues, technical support, and more.
Available 24/7, BetUS's customer support is dedicated to providing exceptional service, making them a trusted and reputable platform in the online betting industry.
BetUS prioritizes the user experience by offering diverse customer support options. Users can reach out to the support team via toll-free phone support, live chat, or email, depending on their preference. The customer support representatives at BetUS are well-equipped to handle inquiries promptly and accurately, ensuring users receive the assistance they need. With 24/7 availability, BetUS's customer support demonstrates its commitment to serving users whenever they require assistance. Overall, BetUS's customer support is a valuable resource, offering reliable guidance and solutions to enhance the betting journey for all users.
Geolocation Restrictions:
BetUS Casino is available to players from various countries. However, it's important to note that due to legal restrictions, the site may be inaccessible or have limited services in certain jurisdictions.
As of now, the following countries are prohibited from participating in real money gameplay at BetUS: Netherlands, Costa Rica, Panama, Curacao, Germany, France, Philippines, UK, Belgium, and Ukraine. It's important to comply with these restrictions and ensure that you are eligible to engage in real money betting according to your country's regulations.
Verification Process:
BetUS Casino implements a verification process for its players to ensure a safe and secure gaming environment. During the registration process, players may be required to provide certain documents, such as identification and proof of address, to verify their identity. This process helps prevent fraud, money laundering, and underage gambling, protecting both the players and the casino.

Pros and Cons:
Pros:
Extensive selection of thrilling casino games.
Generous bonuses and promotions for new and existing players.
User-friendly interface and smooth navigation.
Strong emphasis on security and player protection.
Dedicated and responsive customer support is available 24/7.
Cons:
Geolocation restrictions may limit access for players in certain jurisdictions.
Some players may prefer a larger variety of payment options.
Conclusions:
We saw in the BetUS casino Review that the Casino offers a fantastic online gambling experience with its wide range of games, generous bonuses, and top-notch security features. The user-friendly interface, dedicated customer support, and robust licensing ensure a safe and enjoyable gaming environment. While geolocation restrictions and limited payment options may be drawbacks for some players, BetUS Casino remains highly recommended for those seeking thrilling casino entertainment.

FAQs:
Q: Is BetUS Casino a reputable platform?
A: Yes, BetUS Casino holds a valid gambling license and implements advanced security measures to provide a secure and fair gaming environment.
Q: Can I play BetUS Casino games on my mobile device?
A: Yes, BetUS Casino is optimized for mobile devices, allowing players to enjoy their favorite games on smartphones and tablets.
Q:  What types of bonuses does BetUS Casino offer?
A: BetUS Casino offers a variety of bonuses, including a generous welcome bonus for new players, regular promotions, and VIP rewards programs.
Q: How can I contact customer support at BetUS Casino?
A: BetUS Casino offers 24/7 customer support through live chat, email, and phone. Simply choose your preferred contact method and reach out to their support team.